People are constantly searching Google for local businesses. There are a number of local SEO strategies to drive more targeted visitors to your website. All are important, but one of the biggest local search boosts comes from Australian business directory listings.
Listing your business on local directories is just as important in 2018 as it was in years gone by. But don't take my word for it. According to the experts, having consistent NAP details (Name, Address, Phone) on the best business directories is a critical local ranking factor.
Don't do directory listings or Local SEO without a physical address. It really puts you at a disadvantage. Why? Local listings play an important role in making your business more visible in local search, and an address is required to get quality local listings.
Australian business directories are not just for boosting local rankings, they can also provide referral traffic from people clicking through from your listing.
So time to start finding Australian directories and submitting your business right? You're in the right place. We've put together the go to list of directories for Australian businesses. But before you start submitting your business there's a couple of things to get organised.
Why let your competitors get all the action!
Local SEO packages backed by over 10 years experience
How do I find the best Australia Business Directories?
You'll come across directory lists or submission services offering 50, 100 or even 250 Australian business directory websites. The best they will do is waste your time or worse, damage your Google ranking. Here's why.
They are often scraped from old outdated lists
They contain directories requiring payment, or a reciprocal link
They haven't actually been tested so many directories have broken forms or are abandoned
The websites have no traffic or value, some are even de-indexed by Google
First published in 2014, our best directory list is now updated for 2018. We started with a big net, searching for the top 100 results in Google for approximately 20 industry terms. This gave us almost 300 directories. After weeding out all the Australian business directories that failed the tests above we took one more step to ensure the remaining websites had real traffic value.
Back in 2014 we used "Alexa Ranking" which was the best measure of local Australian website traffic. Fast forward to 2018 and there's much better data available. SEO tools, in particular ahrefs.com allows us to estimate the actual volume of search traffic for a website. In fact it also calculates the equivalent cost if you purchased the traffic through paid ads (Adwords), which is a basis of our ROI calculations for Local SEO packages.
The Top 25 Australian Business Directories (2018 Update)
Here is our list of the best Australian directories for 2018 ranked by Google search traffic. All have been tested to ensure submissions are approved.
yellowpages.com.au
truelocal.com.au
yelp.com.au
womo.com.au
infobel.com
aussieweb.com.au
australianplanet.com
startlocal.com.au
superpages.com.au
pinkpages.com.au
hotfrog.com.au
showmelocal.com
cylex.com.au
au.enrollbusiness.com
aussie-hours.com
tuugo.biz
searchfrog.com.au
fyple.biz
misterwhat-au.com
savvysme.com.au
comeonaussie.com
businesslistingnow.com
zipleaf.auz.net
australiaonlineadvertising.com.au
businesslistings.net.au

With this blog post outranking most Australian directories for related keywords (no doubt you found this post Googling "Australian business directories" or something similar) we threw our hat into the ring. After launching our own Australian business directory Search Frog in 2018, it's quickly grown into a community of over 8,000 local businesses. Search Frog features integrated Google review ratings, manually reviewed spam free listings and a whopping 230+ article blog attracting customers early in the buying cycle.
Website and phone number clicks are tracking in the dashboard for easy reference. Search Frog ad campaigns get your business listing featured at the top of your category and start from just $1 a day with no contracts or subscriptions.
About The Top 3 Local Directories
All of the top three local Australian directories have mobile apps and loads of crowdsourced customer reviews. With a combined 12.5M monthly visitors from search traffic alone (a conservative estimate) they are an important place to list your business online to enhance your reputation.
Yellow Pages Directory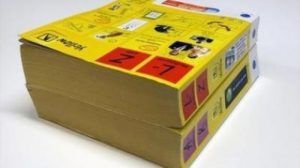 The Yellow Pages starting over 40 years ago in Australia with the annual print edition with the characteristic yellow coloured page. The world's first Yellow Pages online local directory was launched in 1994.
Today, there are more than 9 million searches per month on the Yellow Pages website. The Yellow Pages directory is owned by Sensis who also run other top directories in Australia such as True Local.
Yellow Pages paid directory listings start from $30 up to $217. The higher packages include more keywords and listing features.
TrueLocal Directory
Online since 2006, Truelocal was sold to Sensis by News Limited in 2013. TrueLocal attracts a significant number of customer reviews making it an important listing for businesses. It also has a mobile app in addition to the online directory website.
TrueLocal premium directory listings start from $33 for a higher search ranking and enhanced listing features.
Yelp Australia Directory
The Yelp directory, a global player, was founded by two former PayPal employees in 2004. The Australia Yelp directory is a serious player, particularly in the restaurant and retail industries.
Believe it or not, Yelp recommends you don't ask customers for reviews. Yelps paid advertising has a pay per click model bidding for ad placements in local searches.
Need a local SEO expert?
We specialise in local ranking, local traffic & local leads
How To List Your Business On Local Directories
Prepare your business listing information.
Directory submissions involve entering the same information repeatedly so it's best to be prepared to avoid wasting a lot of time. Gather the following information into one document:
2-3 Business listing titles
Submission email address
Business contact email address
Business phone number
Social media links
2-3 unique business descriptions (Typically 200 words max)
Square logo image (300px is best viewed on most websites)
5 business related images
Business ABN
Having this data on hand to copy information will make the process much faster.
Directory Submission Tools
Automatically submitting business listings is a nice idea but doesn't work well in practice. Different directories are built on different platforms and have unique fields and customisation. Some even have hidden fields to trick these submission tools. This means the listings either fail or have missing or incorrect information.
A semi-automatic approach is best. For DIY, use your browsers auto complete function to assist with form completion, and then manually review the fields.
Directory Submission Tips
Here's a few bonus tips for getting the most from your Australian directory submissions.
Search each directory for the business name and phone number to ensure no duplicate listings are created.
Use consistent login details for easy followup.
Make listings as complete as possible to maximise value.
Vary titles and descriptions to create a unique listing.
Use a dedicated email to separate confirmation & marketing emails from personal email.
Expect a few phone calls from directories upselling premium listings.
Check for confirmation emails immediately and after 5 days.
Lastly don't forget to ask your clients for a review of your product or service on the directories to boost your profile, referral traffic and backlink value! If you find more Australian business directories that pass the tests above let me know in the comments.
Why let your competitors get all the action!
Local SEO packages backed by over 10 years experience