Optimising your website for search engines is not just fundamental to improving your website ranking, it can also have a rapid impact (in as little as 2 weeks).
Website Optimisation can be broken down into two categories:
On-site SEO, which refers to things you can do on your website to improve search engine rankings.
On-page SEO, or things you can do to individual pages to improve their ranking.
This SEO checklist covers 12 unique on-site SEO factors to ensure your website is not just search engine friendly, but maximising search traffic potential.
If you haven't already you'll need to add your website to Google Webmaster Tools to help with some of these SEO factors. Google Webmaster Tools is a free service which provides valuable on-site SEO information, and highlights website health issues.
Download your On-Site SEO Checklist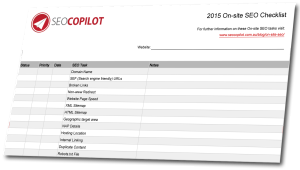 If you can tick all these boxes, your on-site SEO will be in top shape. Download the checklist so you can record the progress of your on-site SEO.
On-site SEO Factors
Domain Name
Using keywords in your domain name can be an advantage, but you need to ensure a balance between keywords, and creating a brand-friendly domain. Domain names are best kept at 15 characters or less not including the www's etc (ie www.seocopilot.com.au is 10 characters).
What are the benefits of a keyword-rich domain? It's probably not what you think. Firstly, keywords in the domain name itself are not  ranking factor in search engine algorithms. Secondly, having relevant keywords in a domain name is beneficial because the domain name is the text that others will use as anchor text when linking to your website. So you can get links with a high search volume keyword with much less concern about Google's penguin algorithm.
It is generally not a good idea to move an existing established website to a new URL specifically to include keywords, as there are other factors like domain age which will have an effect.
SEF (Search engine friendly) URLs
Use keywords to create humanly readable, search engine friendly web page addresses. A default webpage url in WordPress includes the post number i.e. http://example.com/?p=35, which is meaningless to search engines and website visitors.
https://www.seocopilot.com.au/seo-audit-tool/ is much more descriptive. Don't create long URLs to stuff keywords, because these can be a deterrent to others linking to your site, confusing to users, and it dilutes the effectiveness of each keyword.
For optimized ranking, a URL's should ideally be no longer than 68 characters, including the www.
Broken links
This is often overlooked but broken links can harm your ranking. Clean up any broken links on your website using this online broken link checker tool. If your website is built using the WordPress content management system, the Broken Link Checker plugin is extremely useful for identifying those broken links you might not even be aware of.
Internal linking
Try to include generous links between relevant pages on your website. This improves the ranking of your pages by sharing the pagerank (or "link-juice") between them. You can use this technique to emphasise your important pages with more links. An example would be to include a list of product categories in your website sidebar or footer.
Website Page Speed
A fast loading website is better for Google and their users, and Google has actually stated that page speed is a ranking factor. Is your business website slow? Try these 8 easy ways to speed up slow WordPress websites and get in the fast lane.
Non-www Redirect
Simply put, https://www.seocopilot.com.au can be treated by Google as a different url to https://seocopilot.com.au even though it's the same page. If Google gets confused about your URLs, ranking value can be diluted between the two urls. So it's common practice to redirect non-www urls to their www equivalent, and set your preferred domain in Google Webmaster Tools.
On-site Local SEO
Include NAP (Name, Address, Phone) details on every page.  This reinforces your location to Google and will help with local SEO. Set your geographic target area to Australia or your country in the Google Webmaster Tools site settings.
Hosting location
It's a good idea for your website hosting to be in the same country as your target market. Not just for faster loading times, but also Google uses your hosting location is a ranking factor.
XML Sitemap
While it shouldn't be used to compensate for poor site architecture, an XML sitemap can help ensure the search engines are aware of all the content on your site. Submit XML sitemap to Google webmaster tools (SEO by Yoast creates XML sitemaps for WordPress).
HTML sitemap
Linking a HTML sitemap in the footer is a standard on-site SEO practice. This makes it easy for Google, and website visitors to navigate and find all your website pages. The benefit is really internal linking – an additional page linking to your main pages. WP Sitemap Page  allows WordPress website owners to add a sitemap on any page/post using the simple shortcode [[wp_sitemap_page]].
Duplicate content
Identical content found on two or more of the pages on your site is known as duplicate content. Google tries to show pages with unique information in it's search results, and frowns on websites contains many pages with essentially the same content. Siteliner is a great site for reviewing duplicate content on your website.For each page scanned, Siteliner shows you how much of its content was also found on other pages.
Google Crawler Access
Sometimes you don't want Google to crawl certain pages, administration files and folders would be an example. The Robots.txt file is used for this purpose, but if incorrectly setup it can end up blocking Google from important pages. Fortunately, if you've setup your XML sitemap correctly Google will warn you if pages in the sitemap are blocked from Google.
Final Word
Following this on-site SEO Checklist will help provide a solid foundation for other SEO strategies and efforts. Revisit the checklist periodically to catch any issues before they affect your website ranking. How does your on-site SEO stack up? If you have found these on-site tips and hints helpful, please do share them…
Here's some other SEO Checklists with actionable tips: