Using social media for SEO and digital marketing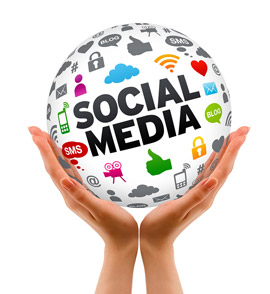 is now a proven low cost of entry marketing option. With a wide variety of choices and limited time and budget, business owners face the challenging decision of which social media platforms to focus their marketing efforts on. There are several factors that should be considered in this decision such as target audience, number of users, time and resources required, ease of use, and search engine optimisation benefits. Let's look at the top 5 social media websites for business.
Facebook
With 13,400,000 Australian users*, Facebook is the largest social media network. Business owners with an international market can also greatly benefit from Facebook, as about one third of the world maintains an active account. Aside from a high volume of users, Facebook offers very targeted marketing for businesses and allows for a large amount of personal interaction. Especially good for B2C (business to consumer) and visual markets, Facebook can become a thriving online community and forum to build your authority. Facebook users are getting increasingly older. This used to be a youth platform but this is no longer the case and all age groups can be targeted via Facebook.
Something to bear in mind with using Facebook for business is that status updates and published posts are not promoted to all followers and to make the most out of Facebook, it is a good idea to invest in Facebook advertising.
Twitter
Twitter is another popular social media network that is very simple for businesses to utilise. With 2,791,300 Australians sending tweets*, it is easy to find clients with an interest in the products or services a business has. It's also a great way of building dialogue and direct relationships with consumers. Tweeting can also be automated relatively easily, making it simple to get started. Establishing business traffic may be difficult at first, but with a consistent marketing campaign, any business can be successful on Twitter. This platform has a strong bias towards younger users, and if you are targeting 18-29 year olds, you could find Twitter especially useful for your business.
LinkedIn
Appealing mostly to business professionals, LinkedIn allows for easy B2B marketing, rather than B2C. While some clients may be looking for products or services on LinkedIn, the network is mostly used by professionals looking to interact and work with other professionals in their field. About 3.9 million Australian users occupy LinkedIn*, and the number is steadily growing with each year. LinkedIn allows businesses to interact with one another and find other individuals or businesses that can help them to grow. LinkedIn is a popular platform for B2B and professional consulting markets.
Youtube
Youtube's reach in Australia is absolutely incredible with 12.9 million unique Australian visitors to the site each month. This means that you should refocus some of your social networking efforts on to video marketing. Video media can be a very powerful platform for showcasing product demos, company advertisements with offers and deals, and introducing your team. With Youtube videos, you have the added bonus of your video content being searchable on the Youtube platform and embeddable on your website.
Google+
Any business that wants to get ahead, in particular with SEO, needs to have a Google+ account. With a Google+ account, you can gain authorship around your blog content, providing it with more weight and authority in the eyes of Google. The connected Google My Business account can also help your business to appear in local search results and on Google Maps. The influence of Google+ is only going to increase over time.
Which social media networks do you use for your business?
*Thanks to David Cowling from Social Media News for our usage statistics.